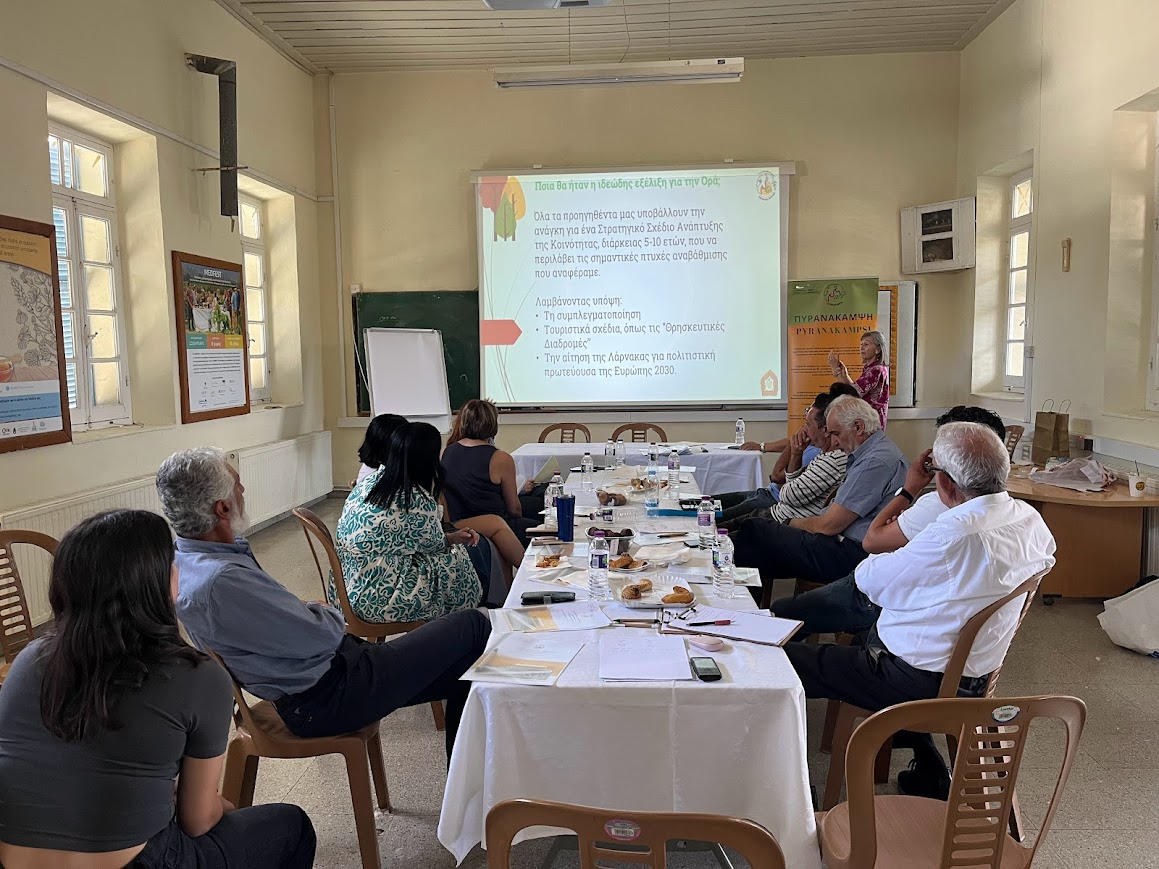 Συνάντηση στην Ορά στα πλαίσια του έργου Πυρανάκαμψη
Στις 5 Νοεμβρίου και στα πλαίσια του έργου Πυρανάκαμψη παρουσιάστηκε σε πανκοινοτική σύσκεψη της κοινότητας Οράς η έκθεση του Ιδρύματος Λαόνα σχετικά με την Άσκηση ΔΑΣΕΑ, που πραγματοποιήθηκε στην κοινότητα στο πρώτο εξάμηνο του 2023. Η άσκηση περιλάμβανε εντοπισμό από τα μέλη της κοινότητας των Δυνατών και Αδύνατων Σημείων, των Ευκαιριών και των Απειλών για την κοινότητα.
Κατά τη σύσκεψη, στις 5 Νοεμβρίου, παρουσιάστηκαν οι διαπιστώσεις και οι εισηγήσεις του Ιδρύματος για την περαιτέρω αειφορική ανάπτυξη του χωριού. Επισημάνθηκαν ιδιαίτερα εκείνα τα σημεία στα οποία πρέπει να δοθεί προσοχή για να διατηρήσει η κοινότητα την αυθεντικότητα και τον χαρακτήρα της, και επιπλέον να ενθαρρύνει έργα σκίασης για αντιμετώπιση της κλιματικής αλλαγής. Η γενική διαπίστωση ήταν ότι υπάρχουν πολλές καλές προοδευτικές ιδέες μεταξύ των κατοίκων και είναι πιο αποτελεσματικό εκείνοι που εμπνέονται να ενεργούν και να προχωρούν για να ενθαρρύνουν και τους άλλους, αντί να αναμένουν να συμφωνήσουν όλοι πριν δραστηριοποιηθούν.
Αυτή η έκθεση θεωρήθηκε ότι μπορεί να αποτελέσει ένα ισχυρό εργαλείο για προγραμματικό σχεδιασμό στις επικείμενες κοινοτικές εκλογές.
Το έργο ΠυρΑνάκαμψη λαμβάνει επιχορήγηση στο πλαίσιο του προγράμματος Active Citizens Fund Cyprus, που χρηματοδοτείται από την Ισλανδία, το Λιχτενστάιν και τη Νορβηγία, μέσω των επιχορηγήσεων του ΕΟΧ και της Νορβηγίας 2014-2021.
**************************************************
On November 5 and as part of the Pyranakampsi project members of the Laona Foundation presented at a pan-community meeting in Ora village the report on the DASEA Exercise, which took place in the community in the first half of 2023. The exercise included the identification by community members of Strong and Weak Points, Opportunities and Threats to the community.
During the meeting, on November 5, the Foundation's findings and recommendations for the further sustainable development of the village were presented. The points that need to be addressed in order for the community to maintain its authenticity and character, and in addition to encourage shading projects to tackle climate change, were particularly highlighted. The general finding was that there are many good progressive ideas among the residents and it is more effective for those who are inspired to act and step forward to encourage others, rather than waiting for everyone to agree before taking action.
This report was considered to be a powerful tool for the programmatic planning in the upcoming community elections.
The PyrAnakampsi project receives a grant under the Active Citizens Fund Cyprus programme, funded by Iceland, Liechtenstein and Norway, through the EEA and Norway Grants 2014-2021