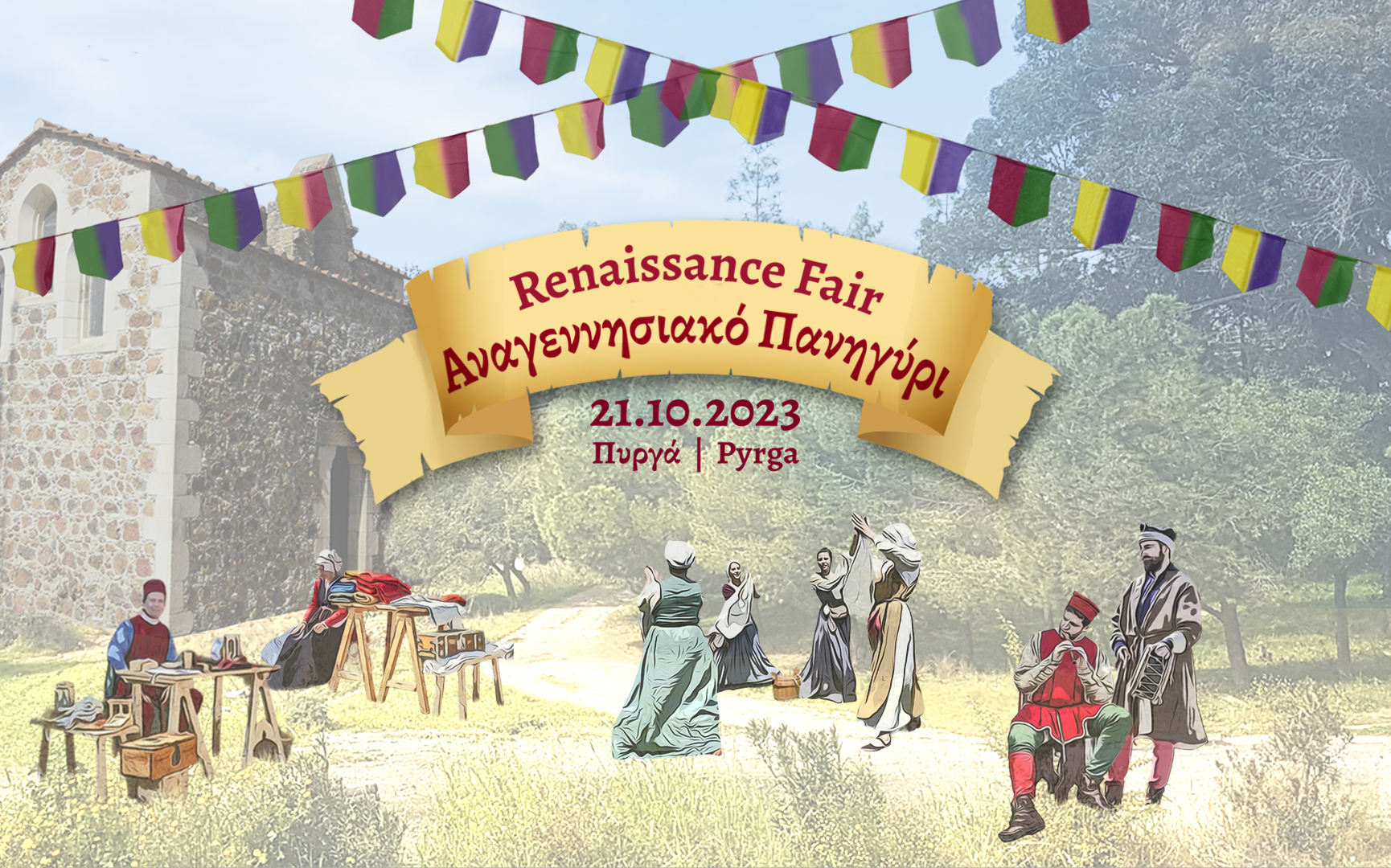 Αναγεννησιακό Πανηγύρι, 21 Οκτωβρίου 2023
Το πρώτο στο είδος του Αναγεννησιακό Πανηγύρι διοργανώνεται το Σάββατο 21 Οκτωβρίου, 2023 στα Πυργά (Επαρχία Λάρνακας).
Οι διοργανωτές σας προσκαλούν σ' ένα ταξίδι στο παρελθόν. Σ' ένα πανηγύρι για το προσκύνημα της Βασίλισσας της Κύπρου, Αικατερίνης Κορνάρο, στο λατινικό βασιλικό παρεκκλήσι της Αγίας Αικατερίνης Πυργών.
Καλλιτέχνες από την Ιταλία, το Σαν Μαρίνο και την Κύπρο με κοστούμια και όργανα εποχής θα παρουσιάσουν τραγούδια, χορούς, αφηγήματα, παραμύθια και ποίηση που ανάγονται στην Κυπριακή και Ιταλική Αναγέννηση. Επίσης, το πανηγύρι θα περιλαμβάνει παιχνίδια και δραστηριότητες για όλη την οικογένεια, υπαίθρια αγορά ντόπιων προϊόντων και χειροτεχνημάτων, περίπατο γύρω από το χώρο διεξαγωγής της εκδήλωσης προς τα ιστορικά μνημεία και τη φύση και προσφορά φαγητού και ποτών από τις τοπικές επιχειρήσεις.
Το πανηγύρι είναι μια πολιτιστική πρωτοβουλία στην ύπαιθρο, που προσφέρει όχι μόνο θέαμα, αλλά και ενεργή τοπική συμμετοχή, εστιάζοντας στο ευρωπαϊκό κομμάτι της κυπριακής ιστορίας με όλες τις επιδράσεις που είχε και εξακολουθεί να έχει. Η τοπική κοινότητα συμμετέχει ενεργά στην εκδήλωση με τη εμπλοκή του Δημοτικού Σχολείου Πυργών, του Περιφερειακού Γυμνασίου Αγίας Βαρβάρας, πολιτιστικών σχημάτων και εθελοντών.
Το ίδρυμα Λαόνα διοργανώνει το πανηγύρι στα πλαίσια του ευρωπαϊκού έργου Beyond Cultural Tourism (Be.Cultour, Horizon 2020) σε συνεργασία με το Κοινοτικό Συμβούλιο Πυργών και την Αναπτυξιακή Εταιρεία Επαρχιών Λάρνακας και Αμμοχώστου Λτδ (ΑΝΕΤΕΛ). Η εκδήλωση τελεί υπό την αιγίδα του Προξενείου του Σαν Μαρίνο στην Κύπρο, με χορηγούς επικοινωνίας τον Φιλελεύθερο και το in-cyprus και υποστηρικτές τον οργανισμό Dante Alighieri Society Cyprus, την Υπηρεσία Κυπριακής Χειροτεχνίας και το σωματείο ΒΑΜΟC.
Πληροφορίες εκδήλωσης
Μέρα: Σάββατο 21 Οκτωβρίου 2023
Ώρες: 15:00 – 22:00
Χώρος: κεντρική πλατεία Πυργών, Λάρνακα
Είσοδος ελεύθερη
Επικοινωνία: 70007102, 22532811
Facebook, Instagram: Laona Foundation
Συμμετέχουν:
Οι ιστορικοί και πολιτιστικοί σύλλογοι:
La Corte di Olnano e La Compagnia dell'Istrice (Σαν Μαρίνο)
Sbandieratori Delle Sette Contrade Di Orte (Ιταλία)
Οι μουσικοί: Peppe Frana (Ιταλία, μεσαιωνικό λαούτο), Έλενα Ξυδά (τραγούδι), Χριστίνα Πολυκάρπου (κρητική λύρα με συμπαθητικές χορδές), Ευριπίδης Δίκαιος (κρουστά), Παναγιώτης Τσαππής (νέυ), Αντρέας Σιαντάνης (λαούτο), Κυριάκος Χατζηανδρέου (κιθάρα), Λευτέρης Γιωργίτσης (βιολί)
Οι κοινοτικές χορωδίες Πυργών και Πέρα Χωριού Νήσου
Ο χορευτικός όμιλος Πυργών
Αφήγηση – θεατρικό εργαστήρι για παιδιά: Θέατρο Ειδεκανού (Έλενα Παυλίδου, Νικολέττα Βερύκιου)
Συντελεστές:
Οργάνωση και εκτέλεση παραγωγής: Στέφανη Πολυκάρπου
Καλλιτεχνικός σύμβουλος/ερευνητής: Ευριπίδης Δίκαιος
Ιστορικός σύμβουλος: Δρ. Δημήτριος Μηνασίδης
Τεχνικός διευθυντής: Χρίστος Χριστοδούλου
Σκηνικά/κοστούμια: Κωνσταντίνα Ανδρέου, Ιφιγένεια Αβραάμ
Σχεδιασμός/εκτέλεση παιχνιδιών: Ρίνα Σούκη
Σχεδιασμός αφίσας: Κατερίνα Σιαμμά
*************************************************************************
The first ever Renaissance Fair will take place on Saturday, October 21, 2023 in Pyrga (Larnaka District).
It will take you on a journey back in time, re-recreating a local fair during the pilgrimage of Catherine Cornaro, last Queen of Cyprus, to the Latin royal chapel of Saint Catherine in Pyrga.
Costumed performers from Italy, San Marino, and Cyprus will entertain with songs, dances, story-telling and traditional poetry dating back to the Cypriot and Italian Renaissance. The fair will include games and activities for the whole family, an outdoor market of local products and handicrafts, a walk around the venue to see historical monuments and local nature, and food and drinks from local businesses.
The fair is a cultural initiative for the countryside. It will offer not only spectacle, but also active participation, focusing on the European element of Cypriot history with all the effects it had and still has. The local community is actively participating in the event through the involvement of the Pyrga elementary school, the Saint Barbara Regional Gymnasium, cultural groups and volunteers.
The fair is being organized by the Laona Foundation, within the framework of the European project Beyond Cultural Tourism (Be.Cultour, Horizon 2020) in collaboration with the Community Council of Pyrga and the Larnaca and Famagusta Districts Development Agency (ANETEL). The event is under the auspices of the Consulate of San Marino in Cyprus. The media sponsors are Phileleftheros newspaper and in-cyprus and supporters the Dante Alighieri Society Cyprus, the Cyprus Handicraft Service and the association VAMOC.
Event information
Date: Saturday, October 21, 2023
Hours: 15:00 – 22:00
Venue: central square in Pyrga, Larnaca
Free entrance
Contact: 70007102, 22532811
Facebook, Instagram: Laona Foundation
Media Sponsors: Phileleftheros newspaper, in-cyprus
Supporters: the Cyprus Handicraft Service, the associations Dante Alighieri Society Cyprus and
Artists and groups participating:
The historical and cultural associations:
La Corte di Olnano e La Compagnia dell'Istrice (San Marino)
Sbandieratori Delle Sette Contrade Di Orte (Italy)
Musicians: Peppe Frana (Italy, medieval lute), Elena Xyda (singing), Christina Polycarpou (Cretan lyre with sympathetic strings), Euripides Dikaios (percussions), Panagiotis Tsappis (ney flute), Andreas Siantanis (lute), Kyriakos Hatziandreou (guitar), Lefteris Giorgitsis (violin)
The community choirs of Pyrga and Pera Chorio Nisou
The Pyrga dance group
Storytelling – children's theatre workshop: Idekanou Theatre (Elena Pavlidou, Nikoletta Verykiou)
Students of the Saint Barbara regional gymnasium
Volunteers from the local community
Production team: 
Production organisation and execution: Stephanie Polycarpou
Artistic consultant/researcher: Evripides Dikaios
Historical advisor: Dr. Dimitrios Minasidis
Technical director: Christos Christodoulou
Set and costume design: Konstantina Andreou, Iphigenia Abraham
Games design/execution: Rina Souki
Poster design: Katerina Siamma